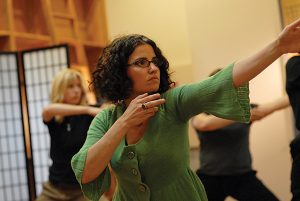 Qigong ("chee gong") is an ancient Chinese movement art designed to promote a healthy mind and body.
Investigators at the National University of Natural Medicine Helfgott Research Institute are recruiting adults with multiple sclerosis (MS), living in Portland, Oregon, for a research study. The purpose of this study is to evaluate the effects of qigong on mental and physical well-being.
Study participants will receive 10 weeks of free pre-screened community qigong classes. This study requires two – three visits to the Helfgott Research Institute to complete a series of questionnaires and physical tests.
You may be eligible to participate in this study if you meet all of the following criteria:
Have a diagnosis of MS
Are 18 years or older
Are able to walk 50 ft. without assistive devices (walker, cane, crutches)
Live in the Portland, OR area
If you meet these eligibility requirements and are interested in learning more about this study, fill out the below form. Questions? Contact Lita Buttolph at 503.552.1886 or email ms.study@nunm.edu.
Study Title: Qigong for Multiple Sclerosis: A Feasibility Study
Principal Investigator: Angela Senders, ND, MCR
IRB#: 102015; IRB Approval Date: 10-06-16