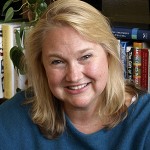 Sawadee ka!
Hello from Thailand! It's hard to believe that it's my first trip here. I've had so many people tell me I would love it, and so many friends and students who have traveled here. Maybe that's why it feels familiar, even though it's an entirely different land. Or maybe it's familiar because the Thai culture stresses happiness – the same philosophy that I try to embody.
I've been here more than a week, and the students joined us four days ago. So I'll try to sum up the last week without writing a letter that's 12 pages long.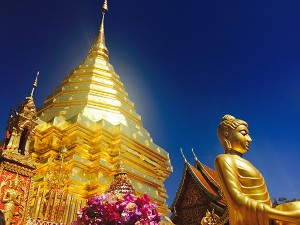 First let me tell you where we are. Lest you think I'm off trekking through the jungle or something, let me assure you that I'm not. We're in Chiang Mai, in northern Thailand. This city is old, but it isn't undiscovered. Tripadvisor has it on its list of the top 25 places to travel – so it's somewhat overrun with tourists. In fact, this morning I met some Golden State Warriors fans at breakfast. Go Steph Curry! Bringing the world together, one basketball fan at a time!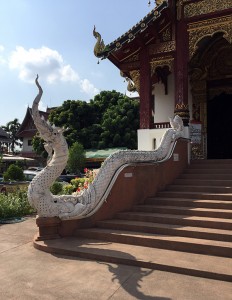 We're in the old city, which is surrounded by a massive wall built in 1296 to protect the city from the Burmese – who apparently liked to attack regularly. My amazing sense of direction has been handy, as the streets lack any sort of order. You'd think you could navigate by temples – you know, take a right at the temple. But there are so many temples, you'd quickly be walking in circles. That's not to say that the temples aren't spectacular. They have dragons/serpents coming down the steep roof-lines and the staircases that are called Nagas. These are designed to protect Buddha.
And Buddha needs protection these days. The Thai people are pretty disappointed about the myriad of ways that Buddha is being disrespected. They have brochures telling people not to tattoo Buddha on their body. Don't make Buddha rugs. And don't take a picture where you're sitting on Buddha's lap! I think tourists forget that Buddha is sacred. It's definitely odd the first time you hear a tuk tuk driver exclaim, "Oh my Buddha!" when she almost hits a bicyclist. You know what a tuk tuk is right? It's the little three-wheeled cart with a glorified lawn mower engine that serves as a taxi in some countries.
The tuk tuk drivers have been nothing short of awesome. Let me tell you a tuk tuk story. Our second day in Chiang Mai, Maria and I were on a mission. The beds here are so hard that my legs go to sleep and I can't sleep. So I decided that we needed to find foam to put on top of the mattress. (After my many years of traveling, I'm solution oriented.) We'd seen a store that sold foam remnants, but didn't think we could haul it back to our hotel. So we found a tuk tuk. And we found Prem, the driver. We explained what we needed and Prem, in his broken English, got it. He zoomed us right to the store. However, the ladies at the store were reluctant to sell us the foam. They told us that the foam was for cars, not beds. So Prem loaded us back in the tuk tuk and took us to the store where "you cut off the bark and the white liquid comes out of the tree." Yes, he took us to a high-end mattress store that sold latex mattress at nearly $2,000 USD a pop. Exactly what I was looking for, but not the price-tag. So Prem flipped a U-y in his little tuk tuk, and took us back to the remnant store. He had us laying on different foam remnants on the cement floor of the shop, and then negotiated a $10 price tag. SOLD. I think our hotel owner was a little confused by us removing the sheets and putting our foam pad on the mattress, but hey, we're eccentric Americans.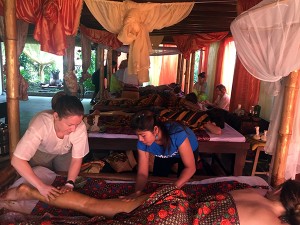 Before I get caught up in the day to day adventures, let me tell you a little about why we're in Thailand. We're on one of NUNM's global health trips. Why Thailand? Well, Thailand is the place where Ayurvedic medicine from India merged with Chinese medicine. The Thai people also had their own traditions. The resulting melding of medicines into Thai Traditional medicine is pretty amazing. So the students are here learning about, and experiencing, Thai traditional medicine. The practices aren't too different from what we label as "Integrative Medicine" in our culture – mind body spirit. However, the philosophy is here is that health is a part of life. You don't separate health into it's own realm.
And getting regular massages is a part of health. That's why I've had six so far, and plan to have at least three more before we leave the country. The students have even higher goals than me. One of our students is planning to have a massage every day! Another student is determined to experience every different kind of massage. Ah the joys of Thai traditional medicine.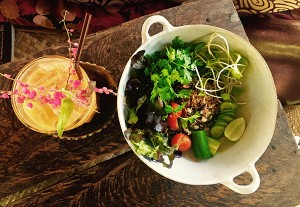 Another part of health is nutrition and really good food. And we've been working tirelessly to accomplish that goal too – eating our way across the city at farm to table restaurants and food carts. While I think we found the best Pad Thai in all of Thailand at Saboi Garden (where the students are staying), we have to keep checking just to be sure. Here's something I don't think I fully understood before getting to Thailand. Thai food is spicy. Really spicy. And I'm not a spice girl. So one of the first phrases I learned in Thai was "Pet mai dai" which means "Not spicy." Yeah. You'd think that would be clear, wouldn't you? However, not spicy in Thai is still a 3 on a scale of 1 to 4 in my world. So now I'm going with "Mai sai prick." That means "No chili peppers." None. The Thai people raise their eyebrows – none? Do I really mean none? Surely not. And really, curry has to have chili peppers. Sigh. If you thought I was sweating in Thailand from the heat, you'd be wrong. I'm sweating from the chili peppers. Any time chili peppers are added on the side, the other faculty (Adam and Maria) quickly scoop them from my plate. They're taking one for the team.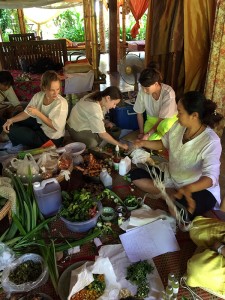 OK, it's not all play. Even though we're in a top tourist destination, sightseeing is not on our agenda. We're in class most of the day. Our days start early, with a big Thai breakfast of mango sticky rice and chicken and rice soup. Then the students learn how to make herbal medicines, compresses, massage oils, etc. Lunch is Pad Thai, Kao Soi, or some other Thai deliciousness. Then the afternoon is using whatever herb or massage oil that they made in the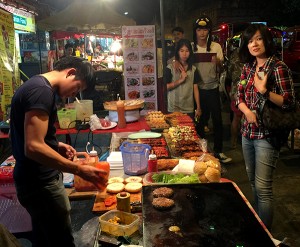 morning. For dinner, we've been exploring the Thai street food scene – testing out different carts. I've fallen in love with pork-rice at one of the street carts. I've had enough of it that the cook (who speaks no English) recognizes me on sight. I guess this pork is my bacon substitute. After a late dinner, we head to the little spas that are on every corner for a massage before bed. The days are long, but fulfilling. And somehow, we're surviving.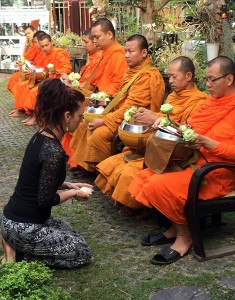 We had a fantastic unique experience yesterday. Vicky, our host and herbal medicine teacher, arranged for the students to give alms to the monks. Every morning, the monks go to a home or market with their empty bowls, and members of the community fill their bowls with food and money. The community takes care of the monks. So yesterday, the students got up extra early to prepare for the monks. They filled bags with rice, filled bags with 21 coins, prepared lotus flowers in true Martha Stewart style, and learned how to give things to Buddhist monks. Nine monks came for breakfast. They ranged from monks who had been monks all of their lives, and are very comfortable in their bright orange robes, to those who are just serving their required three months. The monks chanted, blessed the students, and received the gifts with gratitude. They wrapped strings around the student's wrists to thank them and bless them. The students spent almost two hours on their knees as the monks chanted. It was definitely uncomfortable – as in, American's rarely spend that long kneeling. But it was something that the average tourist will never experience. And because cultural immersion is the theme of the trip, and Buddhism is intertwined with Thai traditional medicine, this experience was perfect.
We've given the students the day off today so that we can prepare for a day at an organic farm up in the mountains of Chiang Dao tomorrow. Then we're off to Pai to do ethnobotany. I'll write more later!
Love and happiness from Thailand,
Heather
PS: If you want to see pictures, I'm on Instagram and Maria Valdez is posting our trip pictures on Facebook.