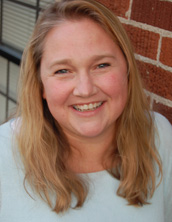 Mambo! 
I'm writing you from a slightly different setting today. Rather from the porch of the guest-house, which has magnificent views of Mount Kilimanjaro, or from the banks of the desert oasis hot springs, I'm writing from the confines of my room. This wouldn't be my first choice for a Moshi letter, but I'm somewhat confined right now for two reasons: 1) I've picked up a lovely case of traveler's diarrhea; and 2) there's a very angry rat outside my door.
Contracting infectious diseases isn't unusual on trips like this one. I always seem to come back to the US with something. Don thinks I should be quarantined after every trip. Maybe this year I'll have all of my infections while I'm traveling so I can come back healthy. Since antibiotics haven't been shown to do much to these GI microbes, I just need to wait it out – and count my blessings that I brought plenty of Charmin with me and that rice is a staple food here.
The angry rat? That's another story. A couple of days ago, Maria awoke to discover that her underwear in her suitcase had been eaten. We decided that it must be a mouse. Last night, I woke up to find a large rodent on my hip. Seemed like the same beast was attempting to eat my underwear while I was still in it. Without bothering to classify the genus species, I flung it across the room and it ran away. I reported to the guest-house manager that we needed a mouse trap… However, today, our Aussie neighbors found what we think/hope is the same animal in their room – and it wasn't a mouse; it was a rat.
What do you do when there's a rat in your room? There's no exterminator to call. Instead, you ask the Maasai warrior who guards this guest-house to catch it, of course. From behind my closed door, I heard him stabbing at the rat with his spear… a lot. But in the end, it got away – still somewhere on the second floor of the guest-house. That's why I expect the rat isn't so pleased. So I'm holed up in my room, with a towel blocking the door, attempting to keep the rat out of our underwear.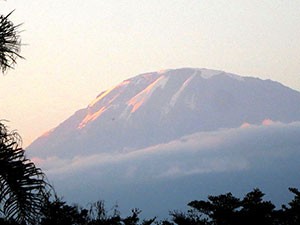 Other than these little inconveniences, Moshi has been fantastic so far, mostly thanks to Maria and her mad networking skills. Maria talks to even more people than I do, and our trips are all the richer for it. Our goal for this trip was to establish solid internship possibilities for our Global Health students. That's going to be much easier with our new friendship with a group called "Pamoja," which is based at Queens University in Ontario. Pamoja means "together" in Swahili – and what a collaborative group they are! The Queens University global health students come to Tanzania in the summer for five weeks to shadow Tanzanian doctors and conduct research projects. Essentially, they're doing what we want our students to do.
So, we're going to combine forces. Our students will come in the spring for seven-eight weeks. Pamoja is thrilled that our students would come in the spring, because their facilities are under-utilized in the spring. Our students can stay in their student housing, shadow the same doctors, and use the same team of translators and data collectors for research! Doesn't get much better than that! In fact, today our students are shadowing Pamoja doctors alongside Queens University medical students, building even more relationships.
Yesterday we introduced Andrew, Pamoja's project manager, to Mowo, the small village about six miles up Kilimanjaro where Maria used to practice medicine. The village has been a favorite place of mine for several years now. Imagine little cement houses tucked among the banana trees and eucalyptus in red dirt of Kilimanjaro, a town center with a school, church, and barber shop… because what else do you need, really? Well, you need a clinic. And Mowo's clinic is finally complete! It even has a choo – a squat toilet. The completed clinic means that Andrew can now run medical caravans to Mowo. This is a true bonus because Pamoja has the same ethical framework as NUNM. They make medical caravans sustainable by pairing doctors from the US and Canada with local Tanzanian doctors. That way the patients still have access to care when the western doctors return home.
The villagers in Mowo want access to natural medicine in addition to western medicine. Thus, the caravans to Mowo need to have NDs, LAcs, and natural medicine students with them. We hope to have the first caravan next spring or summer.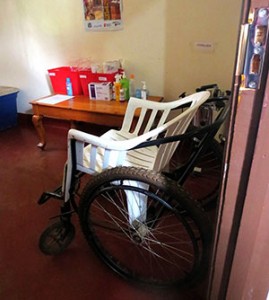 One of the fun things about the relationship with Pamoja is that the medical students from Queens University immediately realized the value of natural medicine (both naturopathic and Chinese). Having shadowed in Tanzania for four or five weeks now, they realize that they need more tools for patients when they get to the villages. When Maria explained naturopathic medicine to one student, he said, "Oh, so you're just better doctors." There's a lot be said for knowing how to use herbal medicine and physical medicine in the bush. Although the facilities at the Pamoja clinic are excellent – and even come with a make-shift wheel-chair which is a deck chair with wheels – the medicine cabinet was near bare. As with all of the other clinics we've visited, medicine is just difficult to come by in these parts.
It's a great thrill to see all of our relationships coming together to provide health care in these remote areas. I think the relationship with Queens University and Pamoja is going to be fruitful for both our institutions.
The other group of mzungus (white people) at the Pamoja guest-house right now are an Australian group of missionaries who are fixing up a home for street children. They're putting in a new kitchen, fixing broken desks and furniture, and making things more functional. Of course, some of the group would rather just be decorating. One of the group leaders and I were chatting last night about 'first-world problems' vs 'third-world problems.' She's worried that some of her group is too attached to first-world problems… For example, they're focused on the color of the draperies or finding art for the wall rather than the fact that the children don't have shoes to wear. (Recall that several intestinal worms can be transmitted through the skin of feet if you're barefoot in the soil, and that problem becomes a bit more urgent.)
My favorite story that she shared was that they took their group out for pizza. Now, I think it's fairly amazing that you can get pizza in these parts at all. But not everyone appreciates that. Her group was asking the waiter whether the crust was crispy or soft – to which the typical Tanzanian waiter will simply answer yes. Repeat: Crispy? Yes. Soft? Yes. I should have done that when I served pizza. They also wanted a certain brand of red wine to go with their pizza, and went so far as to bring a label with them. Right. Perhaps they would do better with a mission trip to Italy…?
We've had our own experience with first-world problems in our group. For example, 100% Deet has destroyed my toenail polish. A true tragedy. But when the decision is to Deet or not to Deet, Deet wins every time. But whenever inconveniences arise, we simply say, "First-world problem or third-world problem?" and it puts things into perspective.
Tomorrow we'll head to Tanga – back to the coast. It will be sad to leave Kilimanjaro behind. We've been holding class on the deck of the Pamoja guest-house as the sun sets on Kili – a beautiful sight. But there are still many more experiences for the students to have…
Kwa heri! (Blessings to you!)
Heather