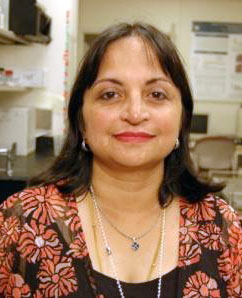 Affiliate Faculty
Phone: 503.494.6878
Email
Dr. Amala Soumyanath has a Bachelors degree in Pharmacy and PhD in pharmaceutical sciences, both from the University of London. Her research expertise is in "Pharmacognosy", the scientific study of medicinal plants. This encompasses quality control of botanicals, phytochemical isolation, bioassays to study activity, clinical studies of botanicals and evaluation of bioavailability of plant derived compounds.
The goals of her research are to:
validate and understand the traditional use of botanicals through scientific study, and
investigate botanicals as a source of new treatments for disease.
From 1990 to 2002, Dr. Soumyanath (née Amala Raman) held a faculty position in the Department of Pharmacy, King's College, University of London, UK. Dr. Soumyanath joined OHSU in 2003, through ORCCAMIND – the Oregon Center for Complementary and Alternative Medicine in Neurological Diseases. She is now affiliated with the Department of Neurology and the Layton Alzheimer's Disease Center at OHSU.
Dr. Soumyanath's current research focus is on the properties and use of the herb Centella asiatica for neurological disorders. Collaborative studies with neuroscientists and neurologists at OHSU has shown that Centella asiatica may stimulate peripheral nerve regeneration and may be also be useful as a neuroprotective agent in central nervous diseases such as Alzheimer's Disease. Both preclinical and clinical studies are being pursued.
Dr. Soumyanath is also working closely with the Dermatology Department at OHSU to develop a new treatment for vitiligo, a depigmentary skin disease. Dr. Soumyanath's group at King's College discovered that piperine, a substance from black pepper, stimulates melanocyte (pigment cell) proliferation. She is now continuing this work at OHSU in collaboration with Dr. Philippe Thuillier (Public Health and Preventive Medicine, OHSU), and Dr. Sancy Leachman, and other members of the Department of Dermatology, OHSU. The goal of this team is to bring piperine to the market as a novel treatment for vitiligo.
Dr. Soumyanath says, "Plants have provided healing to humans from time immemorial. I strongly believe that they have a continuing role in current and future healthcare. It's great that we now have the scientific means to ensure rational phytotherapy."
In her spare time, Dr. Soumyanath enjoys world travel and world music. For inner peace she turns to the tenets of Sri Adi Sankara's  Advaita philosophy.
---
Recent Publications
Soumyanath A*, Zhong YP, Henson E, Wadsworth T, Bishop J, Gold B and Quinn JF (2012). Centella asiatica extract improves behavioral deficits in a mouse model of Alzheimer's disease: investigation of a possible mechanism of action. International Journal of Alzheimer's Disease, Article ID 381974, 9 pages; doi:10.1155/2012/381974. PMCID:296229
Elsas S-M*, Rossi DJ, Raber J, White G, Seeley C-A, Gregory WL, Mohr C,  Pfankuch T, Soumyanath A(2010). Passiflora incarnata L. (Passionflower) extracts elicit GABA currents in hippocampal neurons in vitro, and show anxiogenic and anticonvulsant effects in vivo, varying with extraction method. Phytomedicine, 17 (12), 940-949. Epub 2010 Apr 10. PMID: 20382514
Faas L, Venkatasamy, R, Hider RC, Young AR and Soumyanath A* (2008). In vivo evaluation of piperine and synthetic analogs as potential treatments for vitiligo using a sparsely pigmented mouse model, British Journal of Dermatology, 158, 941-950. Epub 2008 Feb 16. PMID: 18284389
Zwickey H*, Brush J, Iacullo CM, Connelly E, Gregory WL, Soumyanath A, Buresh R (2007). The effect of Echinacea purpurea, Astragalus membranaceus, and Glycyrrhiza glabra on CD25 expression in humans: a pilot study Phytotherapy Research, 21(11), 1109-1112. PMID: 17661330
Lin ZX, Liao Y, Venkatasamy R, Hider RC and Soumyanath A* (2007). Amides from Piper nigrum L. with dissimilar effects on melanocyte proliferation in vitro. Journal of Pharmacy and Pharmacology, 59, 529-536. PMID: 17430636
Soumyanath A*, Venkatasamy R, Joshi M, Faas L, Adejuyigbe B, Drake A, Hider RC , Young AR (2006). UV Irradiation Affects Melanocyte Stimulatory Activity and Protein Binding of Piperine. Photochemistry and Photobiology, 82, 1541-1548. PMID: 17387768
Ali H, Houghton PJ*, Soumyanath A (2006). alpha-Amylase inhibitory activity of some Malaysian plants used to treat diabetes; with particular reference to Phyllanthus amarus. Journal of Ethnopharmacology, 107, 449-455. PMID: 16678367
Brush J,  Mendenhall E,  Guggenheim A, Chan T,  Connelly E, Buresh R,  Soumyanath A,  Zwickey H* (2006). The effect of Echinacea purpurea, Astragalus membranaceus and Glycyrrhiza glabra on CD69 expression and immune cell activation in humans. Phytother. Res., 20(8), 687-695. PMID: 16807880
Soumyanath A*, Zhong Y-P, Gold S, Yu X, Koop DR, Bourdette, D, Gold BG* (2005). Centella asiaticaaccelerates nerve regeneration upon oral administration and contains multiple active fractions increasing neurite elongation in vitro. J. Pharm. Pharmacol., 57, 1221-1229. PMID: 16105244
Itharat A, Houghton PJ*, Eno-Amooquaye E, Burke PJ, Sampson JH, Raman A (2004). In vitro cytotoxic activity of Thai medicinal plants used traditionally to treat cancer. Journal of Ethnopharmacology 90 (1), 33-38.
Venkatasamy R, Faas L, Young AR, Raman A*, Hider RC (2004). Effects of piperine analogues on stimulation of melanocyte proliferation and  melanocyte differentiation. Bioorganic and Medicinal chemistry, 12(8), 1905-1920. PMID: 15051059
Bawden K, Quant J, Ali F and Raman A* and Houghton PJ* (2003).  Fractionation and characterization of compounds inhibiting α-amylase and their potential as anti-diabetic remedies.  Journal of Pharmacy and Pharmacology, 55(Supplement): S34.
Goel RK*, Sairam K, Babu MD, Tavares IA, Raman A (2003). In vitro evaluation of Bacopa monniera on anti-Helicobacter pylori activity and accumulation of prostaglandins. Phytomedicine, 10, 523-527.
Books
Amala Soumyanath (Editor). Traditional Herbal Medicines for Modern Times – Antidiabetic plants. 2005. Publ. Taylor and Francis (CRC Press). Pp. xvi + 314. ISBN 0-415-33464-0
Peter J Houghton and Amala Raman. Laboratory Handbook for the Fractionation of Natural Extracts, 1998. Publ. Chapman and Hall, London,  pp.  vi +199. ISBN 0-412-74910-6