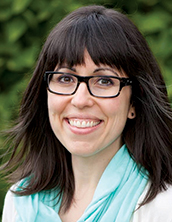 Chair of Master of Science in Integrative Mental Health Program
Email
Dr. Angela Senders is the Chair of the Master of Science in Integrative Mental Health. She received her doctorate in naturopathic medicine from NUNM in 2005 and maintained a private practice for six years with a focus on mind-body medicine. During this time she trained extensively with M.E.T.A. (Mindful Experiential Therapeutic Approaches), one of the premier educational institutes for applied mindfulness, in Portland, OR. Her work with clients utilized mindfulness and somatic psychotherapy to address the relationship between life experience and physical disease.
In 2011 she was awarded a postdoctoral fellowship with the Oregon Center for Complementary and Alternative Medicine in Neurological Diseases at Oregon Health & Science University to study mind-body medicine in a larger health care context. She completed a master of clinical research in 2014 and currently investigates the impact of psychological stress and mindfulness in multiple sclerosis.