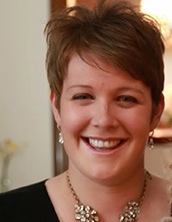 Principal Investigator
Phone: 503.552.1749
Fax: 503.227.3750
Dr. Carolyn Nygaard graduated from NCNM (now NUNM) with a doctorate in naturopathic medicine and a certificate in natural childbirth in 2009. She also has a B.S. in biochemistry from the University of Dayton. While earning her undergraduate degree, she completed her senior thesis in analytical chemistry and received a summer internship with the Department of Clinical Pathology at University Hospitals of Cleveland. There she studied antibiotic resistance in Streptococcus pneumoniae and Staphylococcus aureus.
Dr. Nygaard's areas of interest are autoimmunity, fertility and pediatrics. She is a clinical investigator on several projects at NUNM's Helfgott Research Institute including studies on women's health and fertility. She also teaches research courses in NUNM's School of Naturopathic Medicine and is in private practice as a naturopathic doctor and midwife.