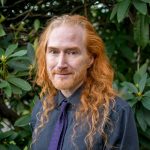 Post-Doctoral Fellow
Phone: 503.552.1744
Email
Following his Bachelor's degrees in Biology and Environmental Studies, and Master's degree in Biological Sciences from Western Michigan University, Dr. Phipps held positions in the University of Iowa Department of Preventive Medicine and Environmental Health's Pulmonary Toxicology Facility, and the Department of Pharmacology and Toxicology at Michigan State University. Later, he earned a PhD in Toxicology/Environmental Health Sciences from the University of Michigan School of Public Health. His research activities focused on the immunological effects of inhaled pollutants including environmental tobacco smoke, organic dusts, and bioaerosols. He was also involved with studies of how hormones produced by adipocytes (fat cells) affect pulmonary immune responses.
His clinical research interests at NUNM include: understanding the relationships between inflammation and brain function, the effects of environmental exposures such as air pollution and pesticides in foods, and novel interventions to improve brain function and plasticity such as neurofeedback, photobiomodulation and entheogens.