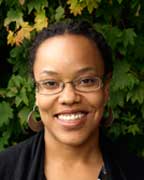 Associate Professor, Program Chair, Master of Science in Integrative Medicine Research
Phone: 503.552.1857
Fax: 503.227.3750
Dr. Tippens, an associate professor and Chair of the Master of Integrative Medicine Research program within the School of Graduate Studies. She is a graduate of Bastyr University in Seattle, Washington, where she received her doctorate in naturopathic medicine and a master's degree in acupuncture and Oriental medicine. She completed a family practice residency at the National College of Natural Medicine with an emphasis on community health. After residency, Dr. Tippens was awarded a National Institutes of Health-funded post-doctoral fellowship, during which she received a Certificate in Human Investigations through the Oregon Health & Science University, and participated in research evaluating expectancy in the treatment of metabolic syndrome and obesity. She has recently completed a Ruth L. Kirschstein National Research Service Fellowship Award (F32), receiving training in health disparities and health services research. She received a Master of Public Health with emphasis on epidemiology and biostatistics from OHSU in 2012. Dr. Tippens investigates the role that integrative medicine can play in meeting the needs of uninsured and medically underserved communities. In addition to conducting research, Dr. Tippens works with students and faculty to incorporate coursework and training in public health and the delivery of culturally and linguistically appropriate healthcare services. She has also been involved in the movement to incorporate the principles of evidence-based medicine into the clinical curricula with the goal of promoting research literacy in medical education.
---
Selected Publications
Faith J, Thorburn S, Tippens KM. Examining CAM Use Disclosure Using the Behavioral Model of Health Services Use. Complement Ther Med. 2013 Oct; 21(5): 501-508.
Thorburn S, Faith J, Keon KL, Tippens KM. Discrimination in Health Care and Use of CAM in a Representative Sample of U.S. Adults. J Altern Complement Med. 2013 Jun ;19(6):577-81
Tippens KM, Wild H, Campbell C, Russell A, Borba K, Swanson J, Elmer, PJ. Perspectives on Diversity among Students from Conventional and Alternative Medical Schools. JBPHPD: Res, Educ and Policy. 2012; 5(2), 850-862.
Tippens KM, Oberg E, Bradley R. A Dialogue Between Naturopathy and Critical Medical Anthropology: Toward a Broadened Conception of Holistic Health. Med Anthropol Q. 2012 Jun;26(2):257-70.
Chao M, Tippens KM, Connelly E. Utilization of Group-Based, Community Acupuncture Clinics: A Comparative Study with a Nationally Representative Sample of Acupuncture Users. J Altern Complement Med. 2012 Jun;18(6):561-6.
Saha S, Freeman M, Toure J, Tippens KM, Weeks C, Ibrahim S. Racial and ethnic disparities in the VA health care system: a systematic review. J Gen Int Med. 2008; 23(5):654-71.
Maty SC, Tippens KM. Perceived and actual diabetes risk in the Chinese and Hispanic/Latino communities in Portland, OR, USA. Diabet Med. 2011; 28(6):658-67.