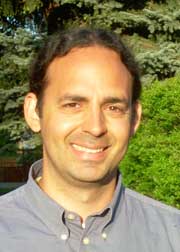 Principal Investigator
Phone: 503.552.1804
Email
Dr. Kurt Beil is a principal investigator at NUNM's Helfgott Research Institute and an adjunct faculty member, teaching courses in environmental medicine, integrative microbiology and public health, and academic research journal club. He completed his undergraduate degree at Northwestern University, with a BA in Biological Sciences with a minor in Psychology. In 2006, he received his Doctor of Naturopathic Medicine and Master of Science in Oriental Medicine degrees from the National University of Natural Medicine.
In 2010, Dr. Beil received his Master of Public Health from Portland State University, with a focused on health promotion and integrative medicine, specifically concentrating on the use of natural environments and urban green spaces as holistic public health resources. While at PSU, he also completed the graduate certificate in sustainability, and was one of the first recipients of the Miller Foundation grant, allowing him to conduct a survey of people's awareness of the relationship between sustainability and health. He has consulted with Metro, the Portland regional elected government, on the health benefits of our system of parks, trails and natural areas, known collectively as the Intertwine.
Dr. Beil's research focuses on the complex interactions between people and their surroundings,and how these interactions influence levels of stress, well-being and health. He utilizes objective and subjective empirical methods to quantify psycho-physiological responses to natural and built environmental settings. He is interested in how a closer personal and social relationship with the natural world can be utilized to promote optimum holistic health for individuals, and how that relationship benefits the sustainable health of communities and ecosystems.
---
Projects
Pilot study examining the impact of indoor vegetation (houseplants) on autonomic nervous system, emotional and cognitive function.
Feasibility study investigating the impact of environmental settings on holistic measures of stress and health.
Pilot study investigating the impact of outdoor natural and built urban environments on physiological and psychological measures of stress and health.
Published Papers
Beil, K., & Hanes, D. (2013). The Influence of Urban Natural and Built Environments on Physiological and Psychological Measures of Stress – A Pilot Study. International Journal of Environmental Research and Public Health, 10(4), 1250–1267.
Beil, K., Hanes, D., & Zwickey, H. (2014). Environmental Influence on Holistic Health Measures. Explore: The Journal of Science and Healing, 10(2), 115–117.