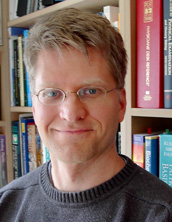 Assistant Professor
Email: Email
Phone: 503.552.1774
Dr. Paul Kalnins distinctly integrates naturopathic and Chinese medicine. While combining these two medical philosophies, he also incorporates the insights of anthroposophical medicine, a unique system of healing based on the premise that body, soul, and spirit form an integrated whole.
Dr. Kalnins has been involved with ongoing research at OHSU in plant pharmacology studies involving Passiflora (Passion Flower).  Additionally, Dr. Kalnins works with NUNM's Helfgott Research Institute on studies involving electrodermal acupuncture point testing.
As an undergraduate student at Ohio State University, Dr. Kalnins majored in mathematics and physics.  His focus was on geophysics, with studies in the emerging field of "quantum biology." He was drawn to naturopathic and Chinese medicine partly to satisfy his desire to explore "whole systems" medicine, as well as his love of plant medicine. "My particular areas of interest are exploring the medicinal properties of plant families, and developing a way of conducting plant research that extends beyond the usual reductionistic models."  Dr. Kalnins is also actively involved in a way of doing science inspired by the writings of the German poet, Goethe, (known today as "Goethean phenomenology"). He is currently writing a book relating the forms and gestures of plant families to their medicinal properties.
Dr. Kalnins is an adjunct faculty member at NUNM, teaching organ phenomenology and pathology in the Chinese medicine department. He earned both a Doctor of Naturopathic Medicine and Master of Science in Oriental Medicine degree at NCNM (now NUNM) in 1998. He is a licensed acupuncturist and a certified diplomate in acupuncture and Chinese herbal medicine.