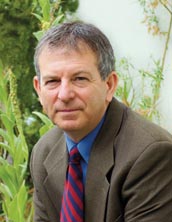 Adjunct Faculty
Phone: 503.552.1758
Email
Dr. Rich Barrett brings over 20 years of clinical training and experience to NUNM. His extensive understanding of whole body medicine has led to his appreciation for difficult clinical cases. "I have a special interest in treating and diagnosing challenging health conditions and am interested in coordinating care with other physicians such as medical and osteopathic doctors and chiropractors." His areas of expertise include:
● Family practice
● Eyes, ears, nose and throat conditions
● Pediatrics
Dr. Barrett has been an academic and clinical faculty member at NUNM for 20 years.  He currently teaches courses in clinical physical diagnosis; ears, eyes, nose and throat (EENT); and clinical case presentation. In addition Dr. Barrett is an attending physician at the Mount Olivet Clinic, an NUNM community clinic, overseeing students on several teaching shifts.
Dr. Barrett has authored numerous publications and has presented papers at the annual conference for the American Association of Naturopathic Physicians (AANP) on outcomes research on streptococcal pharyngitis and the diuretic effects of Taraxacum leaf. He has received awards for excellence in teaching and has been appointed to the research faculty at NUNM's Helfgott Research Institute. Additionally, he received a National Institute of Health award to pursue research training at Oregon Health and Science University and earned his Certificate in Human Investigations from OHSU's School of Medicine.
Dr. Barrett graduated from NUNM in 1986 and followed his four-year doctoral education with a two-year residency in family practice. In addition to raising his two boys, his interests outside of medicine include hiking, cross-country skiing, music, gardening, woodworking, environmentalism and social justice.