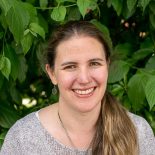 Heather Schiffke, MATCM
Associate Dean of Administration
A lifelong interest in botanical medicine led Heather to study acupuncture and traditional Chinese medicine. After graduating with her master's degree in 2001, she went into private practice and also worked as the assistant academic dean at at Yo San University in Los Angeles.
Heather's relocation to the Pacific Northwest in 2004 and an interest in research led her to NUNM's Helfgott Research Institute. In her time at Helfgott she has managed research studies (including NIH-funded, company-sponsored and pilot research), coordinated conferences (including the Symposium for Portland Area Research on Complementary and Alternative Medicine – SPARC), developed and designed marketing materials for NUNM and Helfgott, managed grants and grant applications.
As the Associate Dean of Administration for the School of Graduate Studies (SGS), Heather oversees the administrative operations of SGS programs and the Helfgott Research Institute. She develops and manages budgets for the School of Graduate studies, the Helfgott Research Institute, research grants and contracts. Heather manages course planning and faculty contracts, supervises administrative and research staff, contributes to development of programs, policies and procedures, accreditation applications, reports and evaluation. She is also the grants manager, signing official for grant applications to the NIH and other government agencies and the primary contact for business and administrative issues at collaborating institutions and organizations.